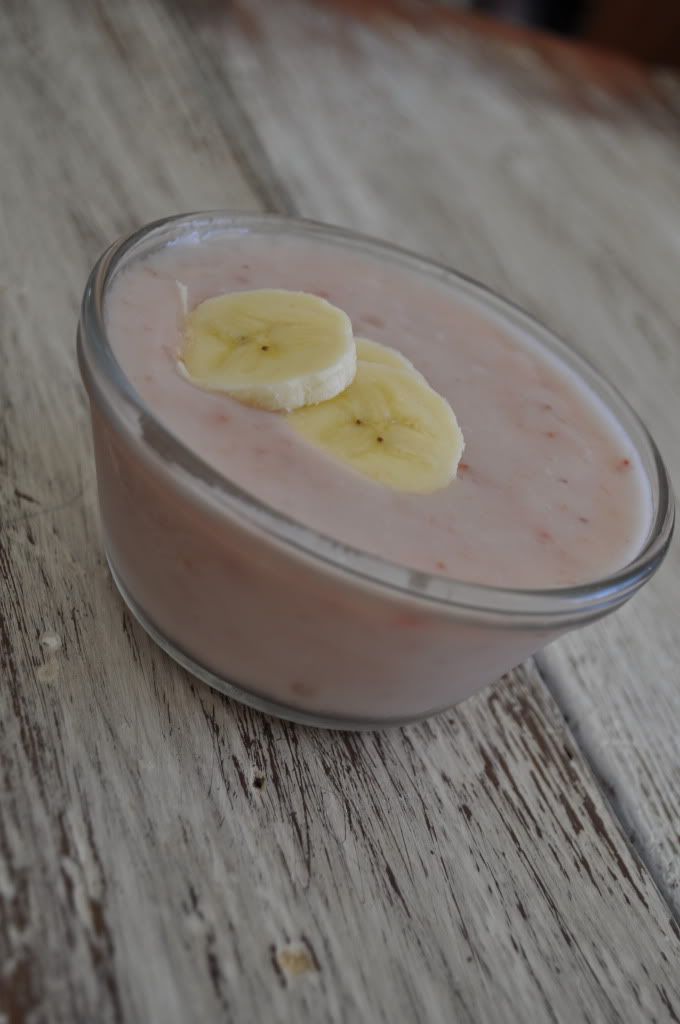 This was my first attempt to make homemade yogurt – it just happens to be dairy free since my son and I are and made in a crock pot. I got the recipe/idea from Holistic Mama. I changed it slightly and may experiment more my next time around.
6 cups coconut or almond milk – I used coconut milk
3/4 cup store bought coconut milk yogurt (as a starter) – I used So Delicious Coconut Yogurt
6 capsules of powdered probiotics (I think it's important to use a really good one)
2 tbsp. agar agar – I used flakes which were a little difficult but worked well in the end!
1 tbsp. maple syrup or agave nectar (I used agave nectar)
Maple syrup and frozen fruit to flavor
Pour the milk into the crock pot and turn it on low for 2 1/2 hours.
Turn off the crock pot and let it sit for 3 hours.
Scoop out one cup of milk and lightly heat on the stove and add the agar agar. Cook until the agar agar has melted and let it cool for a few minutes so it is not too hot then pour it back into the crock. Agar agar is a vegetarian gelatin made from seaweed. You can get it in powder or flake form. The flake form is more true to original plant form. I used the flake and don't have experience on the other. I will tell you that it has a ocean odor that can be little gross when thinking about putting it into yogurt but it didn't affect it. On the package instructions is says to boil and simmer until dissolved. I found myself adding more coconut milk to the mixture. It took over 20 minutes to get the flakes to dissolve. I am not sure if my yogurt would have been as gelled if I had followed the 5 minute instructions. Also, I couldn't imagine biting into a small fishy tasting chunk in my yogurt.
At the same time scoop out a second cup of milk and whisk it together with the probiotics, the store bought yogurt (or 3.4 cup of your own homemade yogurt) and 1 tbsp of agave nectar and then pour it back into the crock. I waited to pour back in with the gelatin mixture.
Cover the crock and wrap with two thick bath towels and leave overnight or 8-12 hours.
When I woke up and checked the mixture it looked fabulous!
Blend with maple syrup or your choice of sweetener and fruit to flavor and refrigerate. I used bananas and frozen strawberries. I think the fruit can over the yogurt. If you put the whole mixture into a blender – only add small amounts of fruit at a time.
Next time I might add the fruit before it gels because once you blend the mixture it is less solid. All in all in was VERY successful.
Coconut yogurt runs between $1.90 – $2.70/ container. This recipe yields 10 3/4 servings of yogurt. If you shop around you can get coconut milk for $3/ container. Get the refrigerated version of coconut milk.
You can order agar agar flakes on vitacost.com. It will last you a few batches.
My entry into Show Me Extraordinary sponsored by Appliances Online and Bosch Washing Machines.