Wow!
A group from our church which the most part is also part of an inter-denominational Bible study in a nearby church, went to the Beth Moore, Living Proof event in downtown Baltimore last night and this morning. We are not all pictured here.
Thanks to Pam Pazda and Patricia Kocarek and the generous staff and management at Residence Inn by Marriott on Light Street in Baltimore, we got a free upgrade from a standard room to a two bedroom apartment! Talk about a gift from God to us. We are all so thankful.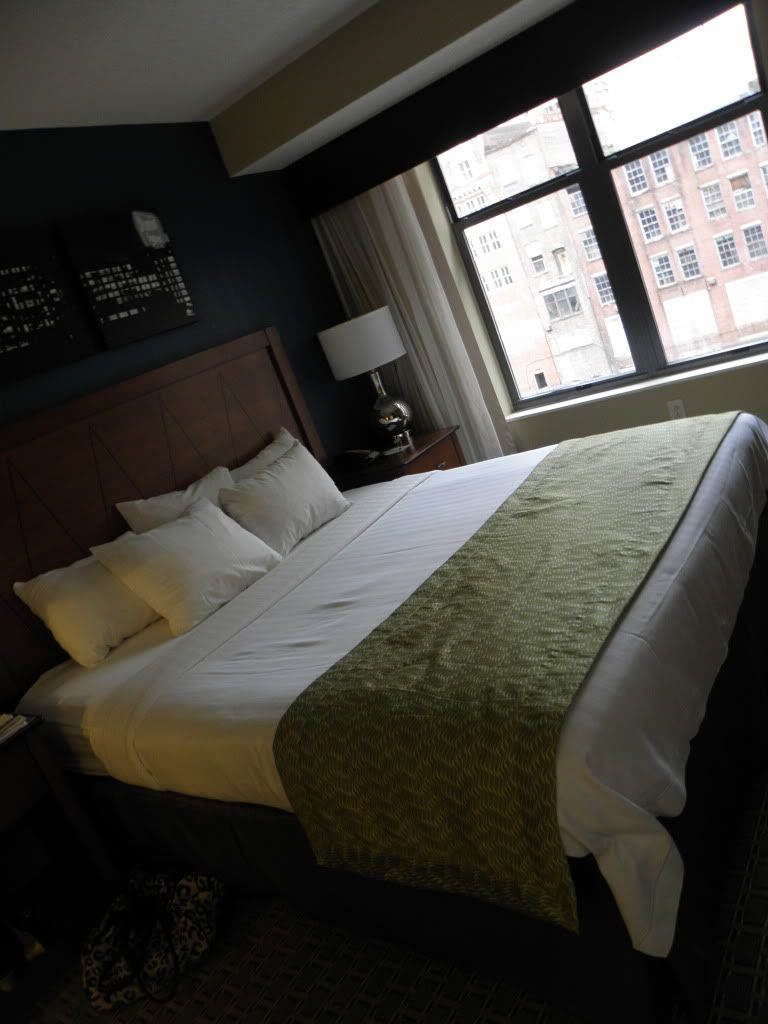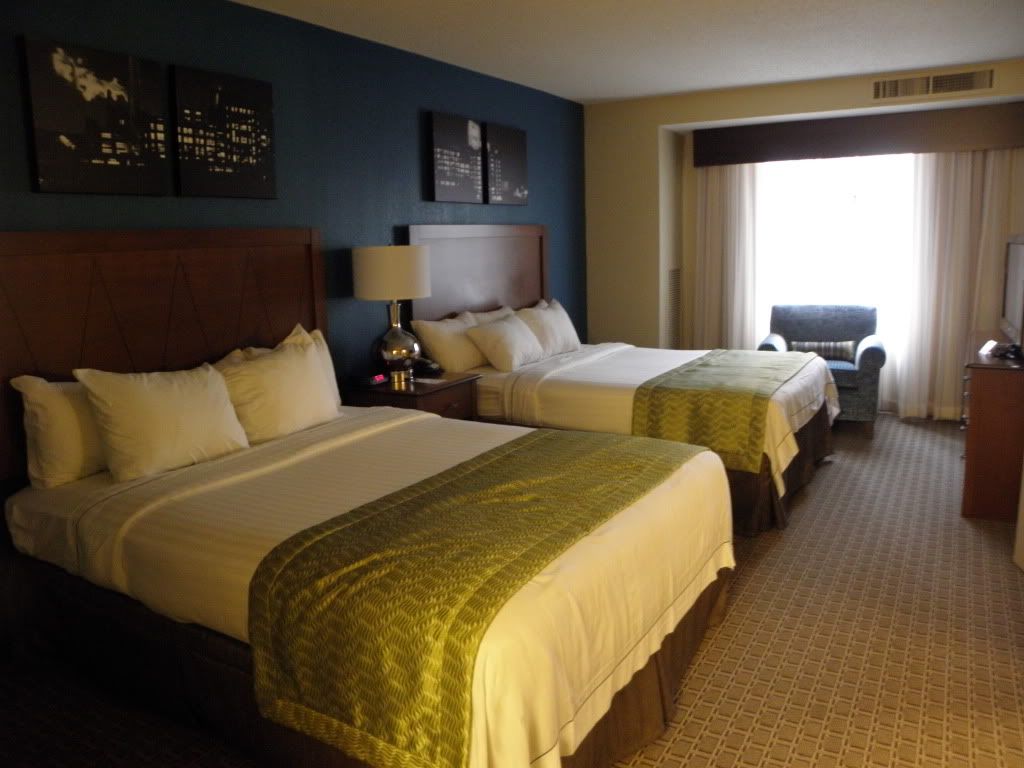 There were two beds in one room, a king in the other and a pull out couch. Being the youngest in the crowd, I opted for the pull out couch. We had two of these lovely suites for a group of 9 that decided to spend the night!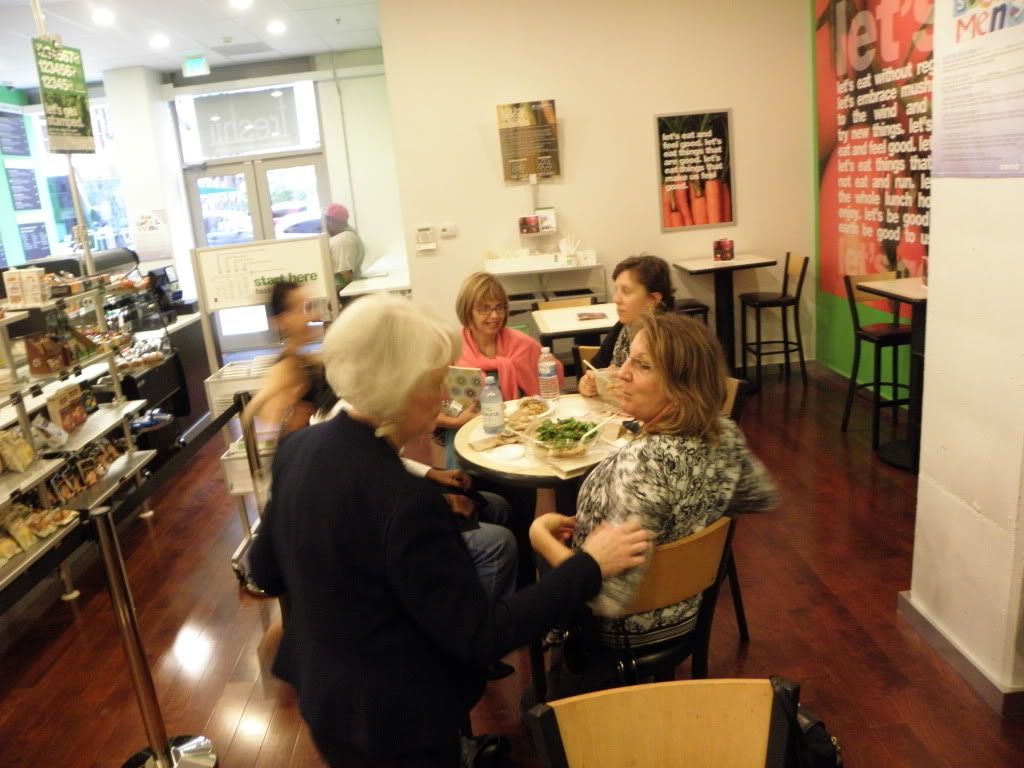 Pam Pazda works downtown and knows all the little restaurants. She introduced us all to Fresh!. This great organic lunch café that stayed opened a little later to accommodate our group.
It was so encouraging to walk down Baltimore Street and from a distance see this sea of women entering into the convention center. Sisters in the faith. The body of Christ.
Travis and the worship team ushered in the Presence of God.
There were 5,200 in attendance. Amazing.
Patricia and Pam getting ready to hear Beth Moore.
Beth worshipping on stage with the worship team after the Friday night session.
Funny group photo.
So what was the event about. Well, it wasn't about going to a show to be entertained although it was well done. I firmly believe Living Proof Ministries and Life Way along with the women in attendance had a burden that God would speak to each person in a personal way, the Word of God would cleanse, the Word of God would release, the Word of God would heal and the Word of God would renew. That it did.
Just like the restaurant where we ate our spiritual meal was fresh.
Nets. Nets? Nets! I think this may have been the process of revelation or impartation when the theme was introduced. Nets. Okay. Wait. What? Nets? Then after we/you/I opened ourselves to allowing the Holy Spirit to examine us and our lives, it was, oh yah, NETS!
The memory verse was Psalm 25:15 ESV My eyes are ever toward the Lord for He will pluck my feet out of the net.
1. A net is something you don't see coming.
In the Old Testament every one but on case a net is used in negative sense.
For the most part it comes around your feet. And people who set a net for other people can end up falling into the net.
Ecc 7:26 – If you live in a net long enough…
2. A heart can twist into a net.
Anyone can be a trap or net in Ecc 7:26.
- Can't be just normal friends, has to be all or nothing, a friend who won't let you go, ingratiate yourself to another, friendship goes beyond biblical need to human need, heart becomes like a net and obligates people to stay in life because only way can keep people.
Hab 1:15-17 making sacrifices to the net – the net life will end up costing us more than we have.
Where our feet go our emotions follow. Where we look has a whole lot to do with where our feet end up.
3. Shame can knot up an insidious net.
Isn't that the truth. Shame can be social, sexual, vocational, financial, relational. We can bring shame to ourselves and others can bring shame to us.
Shame is mentioned over 150 times between Gen 2 and Rev 21 when God removes shame forever.
It's a work of the enemy. Shame keeps us embedded in sin long after repentance.
We cause the enemy great laughter when remain stuck in the net of shame.
It keeps us from looking upward, tendency to look at feet and affects posture.
Ps 130:7 Biblical hope – not a wish but a full on expectation like a watchman sitting on a wall.
It's not enough to diffuse the old situation. It's not enough until God diffuses it and then uses it.
Difference between guilt and shame – guilt is when you know it and it leads you to repentance. Shame is when you wear it.
We are all called to such authenticity of life that if our worst sins were exposed publically it would live up to our testimony. "She always did say she was delivered from a lot." Not living this life of hypocrisy, pretending we have never needed redemption. But not needing to expose the details of our past because that doesn't bring glory to God.
We get comfortable in the net. We even love the net even though we hate it. That's why some people never leave.
What is your net? Pride, negativity, addiction, shame, control of your family, fear, lack of trust in God, failed to make the cut in the call of God?
No one has out sinned the call of God. No one has out sinned His plan of redemption. No one has out sinned the Finished Work of Jesus Christ. If your looking at yourself to complete it, yes, you will always fall short. But we have a God who calls us and also does it.
That was just Friday night. There were two other sessions after.