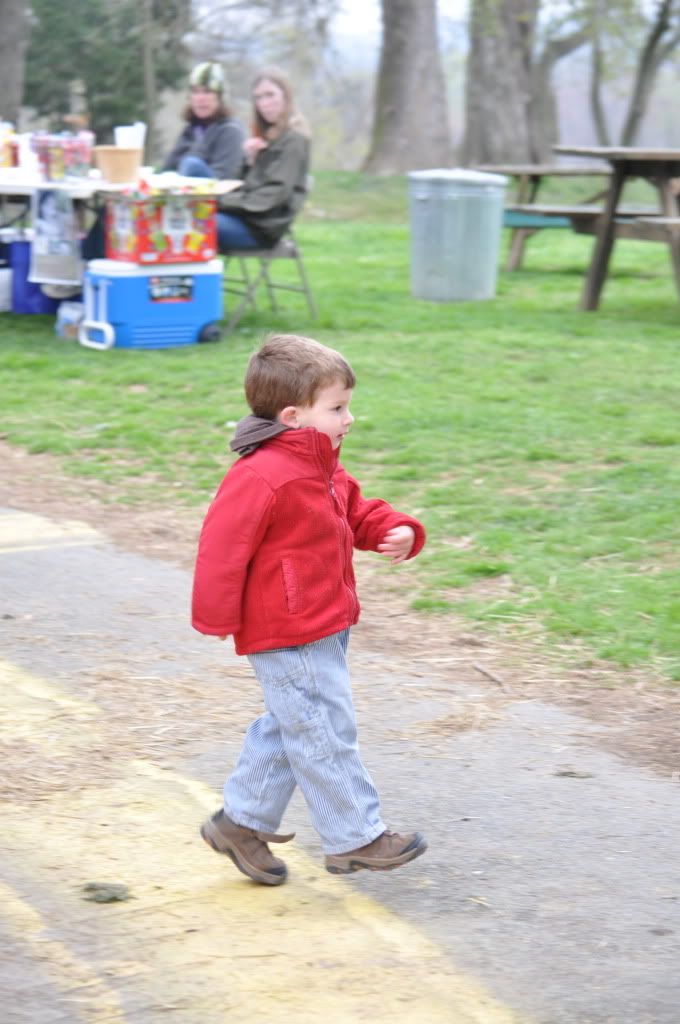 This little nugget has a spring in his step!
Sunday night we went to church in the evening. It was so encouraging. Really a hallmark message. There's an introduction that is good and then the main message. You can listen here.
We got home and we put the nugget to bed after a snack and gave him some medicine for some relief from his seasonal allergies.
I have to confess I was quite tired which I have been pretty regularly over the last couple of weeks. I was thoroughly enjoying some down time after mr. man went to bed. I fell asleep for about an hour and woke up to the nugget coughing and crying. We seem to be in a seasonal allergy cycle with him. He was able to fall back to sleep after a while but then I was pumped up and my mind was racing. Needless to say BOTH of us were dragging yesterday!
After doing morning chores yesterday, we rushed to an overcrowded waiting room for Henry's 3 year check up. I mean there were people on the floor! Note to self: don't schedule appointments for public school spring break!
Henry LOVED his check up. He told the doctor it was his turn after the doctor finished his exam. The doctor got quite a charge out of him.
The nugget got rave reviews this year which is always music to a mom's ears. Last year his growth had decreased significantly. He had chronic diarrhea and constipation. The doctor was concerned and asked me to bring him back in 6 months. I knew in my gut something was affecting him and it was a very difficult time for me. I didn't want to go down some type of drug route or through extensive medical exams that led to nothing. I had watched Henry's digestive system struggle, his skin get worse, his sleeping patterns were horrible and his previous doctor thought he was borderline asthmatic. His previous doctor also thought this was all allergy related. I made the decision to take Henry to a naturopath. He and I both had a scan and tested very high in a gluten, casein (protein in dairy) and beef intolerance. We are coming close to a year with eliminating these from our diets although at times they have been accidentally eaten by Henry and on purpose by me! Henry's growth has increased, his sleeping pattern has done a 180. His skin has been almost clear for a few months now (it takes a long time for candida overgrowth to get under control). Soon after the switch he had solid bowel movements on a regular basis for the first time ever and has not struggled with constipation once.
I am so thankful for his exam yesterday and we both managed to push through the day. The doctor said his seasonal allergies will be a struggle off and on for the next two months. Henry and I did sleep through the night last night and today we have a check up for baby brother!