Last night, after David got home from work, we took a family walk around our new neighborhood with our dog
. Taking our dog for a walk is always interesting, but I won't incriminate our household on the internet. Henry hopped in the jogging stroller, I pushed him and Dave walked Maggie. I was really hoping that Henry would want to walk because he likes to be carried so much and walking up and down these hills is so good for him. Half way through he decided he wanted to help walk Maggie. And he walked the rest of the way home! Which is over a half a mile! He did so great! I was so proud of him. I mean, I know he can do it, it's just him not demanding to be carried.
After we got settled back in at home after doing a few more things, we were all playing in our family room in the basement which has a surplus of toys and is lacking some serious furniture. Henry was riding on the workout ball with me and then decided he wanted Dave to be his horse.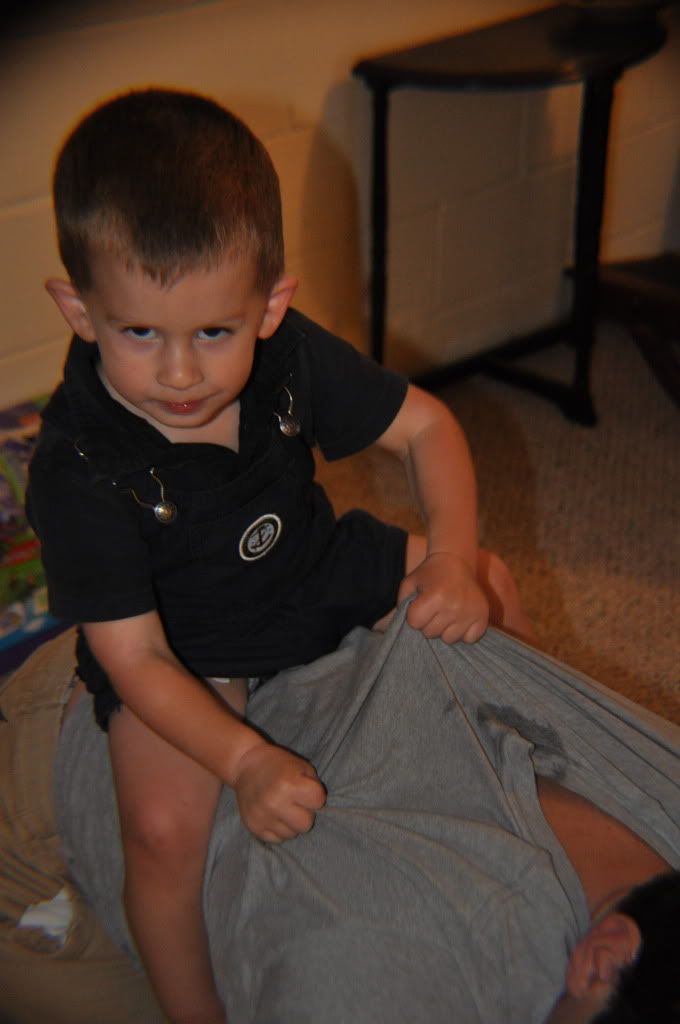 After play time was a bath and bed. Then Dave and I began this book he got for us: God's Love Letters to You, A 40-day Devotional Experience by Dr. Larry Crab. I was in love from reading the preface and day one. I wanted to cry but held back.
God Says, I want you to realize that I never underestimated how thoroughly you'd mess up your life or how painfully you would struggle and suffer, and I don't want you to underestimate your failures or struggles either. They're all part of the story I'm telling.
But neither have I underestimated My determination or ability to enter both the mess you've made and the pain you feel, then turn everything around. I can, and I will, make everything good again. Never, ever underestimate Me. I have a plan, a very good one, and it will move ahead to completion. Guaranteed! Trust Me. Why? Because I love you even when you're messing up badly. I love you in the middle of your pain even though I don't relieve it as quickly as you wish. I am worthy of your trust, no matter what happens in your life. I have a good plan, and nothing will stop Me from carrying it to completion.
You must live now in the tension between anguish and hope.
I LOVED DAY ONE. There's more to it but that's the devotional paragraph. So good!